Everything old is new again.

And for once I'm not talking about fascism. No, I fell down my own staircase Wednesday morning. It's like I haven't lived in this house for over a decade, y'know? Waved my foot over the first stair and slid to the landing on my elbows and butt. Jammed my ankle pretty good, but I'm ok, y'all, I'm ok.
It got me thinking about my editing process, though, as I was lying (not laying) in a crumpled heap on the landing. The trick is to look at your work – but not your staircases, people – as though it were brand new to you. Sometimes that means coming back to it at 2:00 am after watching a movie. Sometimes that means leaving it alone for a week or two and coming back to see if there's anything worth saving (this is especially true, I've found, with poetry: if it's good, I'll still like it in a week, but if it's bad I finally have the emotional distance to recognize that; usually it's a combination of the two and I save a few lines and make the rest worth reading). Sometimes that can mean picking your favorite recreational chemical, whether that's alcohol or endorphins, and applying it before you start to edit.
As Cindy and I have been reminding everyone this month, editing can take your essay, story or poem from "well, that's a thing you wrote" to the top of the popular vote each week. But it's not all about the popular vote at yeah write, folks. We also have our editorial staff picks to hand out. See, while there's a popular vote winner every week, we don't always give out a staff pick. Picks are based on writing quality, how successful the author is in conveying information, and just plain style. If you got a staff pick this week, grab your badge from the sidebar and wear it with pride!  The great part is that we don't have a finite number of picks to hand out. That means that if two, three, five, or even all the works on one grid are fantastic, we can give them all kudos.
Speaking of reading the grids, keep an eye on our roundup for a quick rundown of trends we see each week. We try to highlight the good stuff and point out problems that more than one writer is struggling with. There's probably a handy tip in there for you right now, so check it out!
Once you're done reading through the staff picks and roundup (and congratulating the winners in the comments), keep scrolling down to check out who won the popular vote on both grids. If you earned the highest number of votes in any challenge, you are this week's crowd favorite! If you came in first, second or third, you get "top three" honors. Grab your badge from our sidebar!
Looking for your badge? Both grids have the same winner, staff pick, and top three badges. It doesn't clutter up our sidebar, and they'll still look pretty on yours!
Yeah write #305 weekly writing challenge staff picks: nonfiction
It warms this editor's heart [Ed's note: we're not supposed to have hearts /RBG] when yeah writers embrace our nonfiction knowhow tutorials. This week, Melony combined our January lesson about connecting with readers through the power of the single scene story with our February editing mini-course on finding a narrow literary conflict with impact and developing it using dramatic narrative structure. The result? With a powerful line of dialogue as her narrative hook, she's off, and we're captivated by the forward motion of her story. Instead of letting her thoughts and feelings take over, what we hear instead is the authentic voice of young Melony, which allows us to relate to the universality of her experiences while sympathizing with the particulars of her family situation. She does this all while limiting herself to the four corners of a coming of age tale that moves from place to place and character to character, from dialogue to interior monologue and back, seamlessly unfolding like a movie shot in a single take.
cindy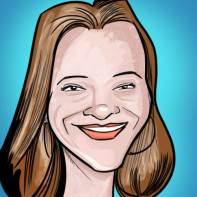 Rowan's roundup: yeah write weekly writing challenge #305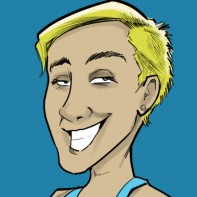 One of the hardest things to do in nonfiction is address story arc while maintaining some kind of chronology. Our top three winners in the popular vote this week all chose completely different methods of developing their story arc and chronology, but all three worked. As you read back through the grid, look at the different techniques and think about which ones you can apply in your own writing: flashbacks? single scenes? two interwoven chronologies? Whatever you choose, the trick – as you can probably see – is pruning away everything that happened chronologically but that doesn't fit in the story arc you're trying to draw the reader's attention to!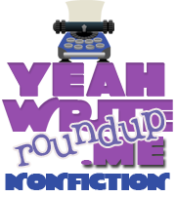 Storytellers! Let's talk about setting. Specifically, let's talk about something that folks did really well on the grid this week: provide enough details to SHOW a setting without ever TELLING the reader where the story took place. I'm going to pick on Michael for an example, because he was unlucky enough to write exactly what I need in soundbite-sized pieces:
"Look at you, all sportsy and stuff," I said. "What'd you do, hide out in the woods with the sports page?"
"Actually, yes," he said. "I found an entire newspaper. Unfortunately, it is a bit dated. Tell me, how did the election in this country turn out?"
"Let's not talk about that…."
A newspaper is a great way to set the time and place of your story without having to say "I was standing at the door of my house in Chicago, Illinois, in the United States of America, when the monster showed up…." By including current events specific to a time and place, you can draw the reader into your setting and give them the added bonus of feeling as though you and they share knowledge. It's an effective storytelling technique, and a great way to show, not tell, your reader where they are.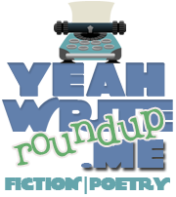 That's it for this week! Remember, we don't always give out a pick on both grids; if we were impressed by several posts on one grid we'll give them all picks, and if nothing really stood out for us we'll hold off. If you didn't get a pick this week, read back through the roundup to see if you can use some of this week's tips and tricks.
If you're lost in the middle of the grid and wondering how you can get a little more feedback on your posts, check out our membership perks!
Everybody: before you go, please take some time to leave your favorites a little love in the comments, and don't forget, our weekend grid opens tonight at 6pm Eastern US Time!
Congratulations to the crowd favorites at yeah write #305
The thumbnails are now sorted in order of most votes to fewest. Ties in the overall number of votes are broken by number of editor votes.
Congratulations if you're at or near the top! Writing well is hard work, and we're honored you've chosen us this week to showcase your entry.
If you're at or near the bottom, don't be discouraged. You're in the right community for learning and growing as a writer, and we are always available with resources for those who ask nicely.
To our readers and voters: thank you! See you next week.
Loading InLinkz ...
Loading InLinkz ...