yeah write #130 weekly writing challenge winners: crowd favorite + top row five
What an interesting mix of writers and topics and themes on the challenge grid this week
Six virgins on the grid with a few writers returning after hiatus gave us a nice variety of posts to read during this week's challenge. One way to stand out on the grid is to write your submission from a creative perspective, no matter how ordinary the original experience seemed to be. It takes work, it takes a few drafts, and, acknowledging our confidence can sometimes take a hit, it can also mean being a little frustrated with how yeah write works. Keeping at it, we become better writers, more critical readers, both here inside the yeah write community and in other spaces. The extra push makes it all worth it.
Crowd favorite and the rest of the top row five
It was a close race the entire 22 hours voting was open for the popular vote. Bill Dameron of The Authentic Life led most of the day with Q (guesting at wife Erica M's personal blog) in second place. The other three spots were fairly fluid until a late night surge (one vote—told you it was close) pushed Christie of Outlaw Mama into the top spot with three minutes left. Natalie of The Cat Lady Sings and CJ of Imperfect Happiness finished off the top row. Congrats to all of you! Please grab your badges in the sidebar and display them proudly on your winning posts.
Weekend moonshine grid opens today at 6 p.m. eastern time!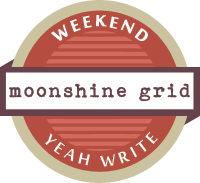 It's the weekend, and yeah write guest editor Natalie D is setting up her moonshine grid and bathtub gin just for you. If you have a favorite post to share or just wanna hang out drinking a little apple cider, please catch up with Natalie starting at 6 p.m. eastern time today. She'll be wiping down the bar by midnight on Monday. The weekend crew is a fun group, you should stop by.
Win-win
The thumbnails are now sorted in the grid from most votes to the least. In the case of a tie, the thumbnails are additionally sorted by page views.
Do not be discouraged if your blog has landed near the bottom of the grid; especially if it was a tight race. The fun lies in getting better exposure for your blog and, in the spirit of competition, an incentive to improve your writing and blogging skills. It's a win-win for everybody involved.
Thanks again, everybody, for submitting, for reading, for accepting the weekly writing challenge. And for making yeah write the most welcoming spot on the Interwebs for writers who blog and bloggers who write.
A word into the ether before you head out
Please use the comment section for congratulations to the winners and/or encouragement for everyone else who competed in the challenge this week. Yeah write is like a full-time job for some of our regular writers. They gladly accept tips and very large compliments.