yeah write #127 weekly writing challenge winners: jury prize, editor picks, crowd favorite + top row five + prizes!
Editor picks and invitational grid
Was it the promise of prizes that brought out 33 bloggers this week, including six virgins, new voices who brought a diversity of topics and viewpoints to the grid? From this, the editors selected seven posts to move up to the invitational grid to compete for this week's jury prize, and we recognize those writers:  Joe, Christie, Natalie, TMW Hickman, Penney, djmatticus, and Mackenzie. Congrats! Your editor's pick badge awaits you in the sidebar.
Jury prize winner
"Double Dog" by Christie O. Tate at Outlaw Mama
Longtime yeah writer Christie O. Tate takes her first Jury Prize for her 360-degree look at the rise and fall of her family dog's reign. It's a mini-Rashomon as Christie tells the tale from her childhood and adult perspectives. She easily flashes backward and forward in time like a well-written episode of Lost. Each of her characters is sympathetic to the reader, the sign of an evolved writer. And each character, no matter how brief the appearance, is deftly characterized: The compassion of the AC guy, the well-meaning but mean old ladies next door, the weariness of her mother. But it was the emotional heft that gave this piece it's so what: Christie's self-righteous, egregiously misplaced anger. For decades. She acknowledges how selfish she was as a kid and how she's learned to give her parents the benefit of the doubt. All done within 600 words.
Congratulations, Christie! And because it's prize week, you'll also take home a copy of the new anthology You Have Lipstick on Your Teeth edited by Leslie Marinelli and featuring writers from In the Powder Room, and featuring an essay by this week's guest editor Deb Quinn. Your prize package also contains the writing classics On Writing by Stephen King and Anne Lamott's Bird by Bird. Email Erica M your mailing address to claim your loot.
Crowd favorite
"Double Dog" by Christie O. Tate at Outlaw Mama
It's a double win for Double Dog as Christie also takes crowd favorite this week and earns another badge. Thanks for always bringing your best and for being a near-constant presence on the grid — recently completing 52 consecutive challenges.  Congrats also to the rest of our Top Row 5: Jake, Linda, Shreya, and hey, me, Cindy. Thanks, everybody! We have Top Row 5 badges for each of you—grab one if you earned one.
Since Christie already won one copy of our prize this week, the other copy of You Have Lipstick on Your Teeth goes to second place in the popular vote: Jacob of OMG It's Jake. Hey, Jake, email Erica M your mailing address to claim your loot.
Weekend moonshine grid opens today at 6 p.m. eastern time!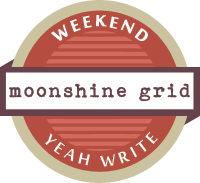 Did you know we have an awesome weekend link-up? Our laid back moonshine grid is hosted by yeah writer Michelle Longo. It's a low key way to share your work without the rules and requirements of the weekly challenge grid. Please, no commercial or sponsored posts, or Michelle will be sad. Badge up and join us — the moonshine grid opens at 6 p.m. eastern time each Friday and will close by 12:01 a.m. each Monday.
Win-win
The thumbnails are now sorted in the grid from most votes to the least. In the case of a tie, the thumbnails are additionally sorted by page views. Part of the top row five? Please grab a winners' badge from the sidebar and display it proudly on your own blog. Congrats!
Do not be discouraged if your blog has landed near the bottom of the grid; especially if it was a tight race. The fun lies in getting better exposure for your blog and, in the spirit of competition, an incentive to improve your writing and blogging skills. It's a win-win for everybody involved.
Thanks again, everybody, for submitting, for reading, for accepting the weekly writing challenge. And for making yeah write the most welcoming spot on the Interwebs for writers who blog and bloggers who write.
Don't leave yet!

Please pop a comment below to congratulate our winners and give encouragement to all those who come out and support us all week after week. And c'mon back next week!