yeah write #125 weekly writing challenge winners: jury prize, editor picks, crowd favorite + top row five
Editor picks and invitational grid
Yeah writers spent the holiday weekend honing their craft, apparently, because once again we tipped over the 30-post mark to launch our invitational grid. Congratulations to the four bloggers who made the invitational grid, moved up by the yeah write editors to compete for this week's jury prize: Jake, Christi, Jennifer, and Christie. Congratulations! Grab your well-deserved editors' pick badge in the sidebar.
We also had three virgins with us! Thanks for following our submission guidelines and joining the our supportive online community for writers.
Jury prize winner
"Toothpicks from Heaven" from Jennifer at Mamarific
In Storycatcher: Making Sense of Our Lives through the Power and Practice of Story, Christina Baldwin talks about the importance of objects in telling our stories: "Whatever detritus we leave after ourselves, story is what makes it valuable. Without story, the artifacts of ordinary lives quickly lose significance and preciousness."
This week's Jury Prize winner, Jennifer from Mamarific, skillfully uses a single utilitarian object – a toothpick, a mere sliver of wood – to weave a powerful narrative about her relationship with her father, her own coming of age into adulthood, and the connection between generations. A car is so much more than a car – it's a vehicle moving a relationship between a dad and his little girl to a bond between a father and his grown daughter. And the toothpick? It represents the essence of her father, a love letter from the past, and his spirit made visible.
On her "About Me" page, Jennifer describes why she writes: "[M]y passion is to celebrate the art of storytelling and connecting with my readers through those narratives." In "Toothpicks from Heaven," her narrative more than resonates, it takes up residence in our hearts.
Crowd favorite
"Toothpicks from Heaven" from Jennifer at Mamarific
Great minds think alike! And by "great minds" I mean "us" and "all of you." Jennifer also takes crowd favorite this week and earns another badge. Congrats also to the rest of our Top Row 5: Jake, Susannah, Mackenzie, and Christi. We have badges for you too! Visit the sidebar and grab one if you earned one.
Weekend moonshine grid opens today at 6 p.m. eastern time!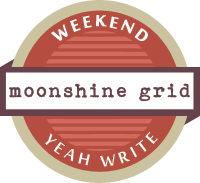 Did you know we have an awesome weekend link-up? Our laid back moonshine grid is hosted by yeah writer Michelle Longo. It's a low key way to share your work without the rules and requirements of the weekly challenge grid. Please, no commercial or sponsored posts, or Michelle will be sad. Badge up and join us — the moonshine grid opens at 6 p.m. eastern time each Friday and will close by 12:01 a.m. each Monday.
Win-win
The thumbnails are now sorted in the grid from most votes to the least. In the case of a tie, the thumbnails are additionally sorted by page views. Part of the top row five? Please grab a winners' badge from the sidebar and display it proudly on your own blog. Congrats!
Do not be discouraged if your blog has landed near the bottom of the grid; especially if it was a tight race. The fun lies in getting better exposure for your blog and, in the spirit of competition, an incentive to improve your writing and blogging skills. It's a win-win for everybody involved.
Thanks again, everybody, for submitting, for reading, for accepting the weekly writing challenge. And for making yeah write the most welcoming spot on the Interwebs for writers who blog and bloggers who write.
Don't leave yet!

Please pop a comment below to congratulate our winners and give encouragement to all those who come out and support us all week after week. And c'mon back next week!