yeah write weekly writing challenge #130 weekend moonshine grid is now open for whatever you want
It's the weekend, so the moonshine grid is open.
Halloween is my favorite holiday, so during the weekends leading up to it I make the most out of the fun. Pumpkins on the front porch? Check. Favorite scary movies queued up?  Check. Pumpkin cookies baked? Check. Halloween costume designed pulled from scraps in the back of my closet? No. I always leave that until the last minute. I'm not some kind of Halloween Stepford Wife.
In the meantime, there's moonshine!
If you're like me and just can't wait for the big spooky night, or even if you're not and you can't wait for the gravestones to disappear from the neighbor's yard, join us here at the moonshine grid to while away those October days in good company! This is the casual side of yeah write, where we welcome any topic, any word count, any style, or even your old favorites. The only caveat? No commercial or commercially sponsored posts, please. Other than that, link up, visit, comment and have fun! Oh, and don't forget to spread the word — and the moonshine — to fellow bloggers.
This is the badge you are looking for.
Over in the right sidebar is a list of yeah write badges containing the codes you need to satisfy the backlink requirement (also called a permalink) of the Inlinkz app. The badge for the moonshine looks like this: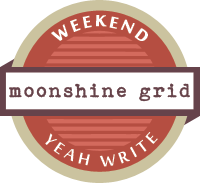 Under the badge is a few lines of code. Copy that exactly then paste it into the "text" or HTML view of your post editor. If you don't copy it exactly, you will get an error message from the Inlinkz app. If you get confused or your browser is uncooperative, visit the Inlinkz step-by-step instructions here. If all else fails, contact Inlinkz customer support.