yeah write weekly writing challenge #128 weekend moonshine grid is now open for whatever you want
It's the weekend, so the moonshine grid is open.
Ah, the weekend. What a magical time. No deadlines, no traffic, no time-clock; just a good book out on the deck and eating way too much cheese. At least, that's how the weekend looks in my fantasy. In reality, there may be squeezing in errands and taking a scythe to the weeds in the backyard, but the pace definitely slows.
The weekends also loosen up here at yeah write, where the moonshine grid hosts an anything-goes link up. Well, almost anything — no commercial or commercially sponsored posts, please. Other than that, we're hanging out here with any topic, any word count, any format, even your favorite post from last year (you know, the one about that time with that thing). Read, comment, spread the word, enjoy the moonshine!
Hello there, friends! 
So you may have noticed by now that the amazing Michelle has been promoted to contributing editor on the challenge grid, and that I (Natalie) am writing this post. Since I begged and pleaded and showed up week after week making a nuisance of myself for a chance to be a part of the yeah write team, Erica M has kindly let me take over the moonshine grid. This pleases me greatly because now I can begin executing my plans for world domination…
Just kidding. I can't even get my pets to obey me. Running the world would be a total disaster.
However, world domination aside, I am very honored to be here writing my inaugural post for yeah write, the best place on the internet for writers and bloggers. 
This is the badge you are looking for.
Over in the right sidebar is a list of yeah write badges containing the codes you need to satisfy the backlink requirement (also called a permalink) of the Inlinkz app. The badge for the moonshine looks like this: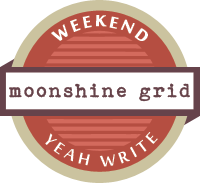 Under the badge is a few lines of code. Copy that exactly then paste it into the "text" or HTML view of your post editor. If you don't copy it exactly, you will get an error message from the Inlinkz app. If you get confused or your browser is uncooperative, visit the Inlinkz step-by-step instructions here. If all else fails, contact Inlinkz customer support.