yeah write #128 weekly writing challenge winners: crowd favorite, top row five, lipstick on your teeth book bundle
Hey, where are the editor picks?
It was a fun week on the yeah write challenge grid with interesting themes and subtexts, just the way we like it. Our writers are starting to dig deep for strong central conflicts within their narratives, and the variation of how we share a common experience is paying off with an eclectic mix of stories: humor-filled, drama-filled, whatever, it just works.
The more we expect from our entries, the more likely some of us will skip a week when it's not coming together just right. Because of that, there will be some weeks we don't reach 30 on the grid, our threshold for unlocking editors' picks and the jury prize winner. This was one of those weeks. And that's okay. We never want your first draft of anything, even if you're trying to beat the deadline.
Three virgins this week! Welcome!
We hope we didn't scare you away with our repeat visits and thoughtful comments on your posts this week. Thanks for jumping right in with both feet. If you enjoyed the experience, please come back next week either as a writer, reader, voter or lurker. Or some combination of all four. We're glad you're here.
Comparing Yourself to Others: The Game Nobody Wins by Bill Dameron at The Authentic Life
One of our favorite yeah write writers returned this week after an extended absence from the challenge grid. It's been encouraging and heartwarming to read Bill Dameron's enthusiastic support of yeah write across the Internet while he's been off in other spaces. Featured several times in HuffPost Gay Voices, Bill has also been committed to growing as a writer through writers' workshops. We've always had writers who would move up and on from yeah write once it was time for them to learn other things and experience other communities, and it's very nice when they come back for some lovin'. And to raise the bar a little in our humble, friendly competition.
Welcome home, Bill. Congrats on the crowd favorite win. Please grab your winner's badge from the sidebar and display it proudly on your winning post. 
Thanks again to Deb Quinn, our guest editor for the past two weeks, for her writing advice and her book giveaway
Since we didn't hit 30 on the challenge grid, we didn't unlock Deb's book bundle prizes for the jury prize winner and the crowd favorite. But to reward those who did put in the hard work hoping for the prize, we dropped all the entries into a bucket and pulled out, soaking wet, Jennifer at Mamarific. Congrats, Jennifer! Random.org chose #15 and that was your position on the grid after all the votes were tallied and validated. Please email Erica M (who lives 17 miles from you) with your mailing address so Deb Q can ship your prize all the way from Abu Dhabi. Life is hilariously circuitous like that sometimes.
Weekend moonshine grid opens today at 6 p.m. eastern time!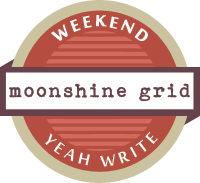 Are you ready for some weekend moonshine? We promoted Michelle Longo to contributing editor and, since Michelle is now opening the grid on Tuesdays, we've brought in Natalie DeYoung from The Cat Lady Sings as our newest guest editor and weekend moonshine host. Please welcome Natalie to her new gig by linking up a favorite post once she gets everything up and running today at 6 p.m. US eastern time. No competition, no submission guidelines, no commercial or commercially sponsored posts. Say hi to Natalie for us.
Win-win
The thumbnails are now sorted in the grid from most votes to the least. In the case of a tie, the thumbnails are additionally sorted by page views. Part of the top row five? Please grab a winners' badge from the sidebar and display it proudly on your own blog. Congrats!
Do not be discouraged if your blog has landed near the bottom of the grid; especially if it was a tight race. The fun lies in getting better exposure for your blog and, in the spirit of competition, an incentive to improve your writing and blogging skills. It's a win-win for everybody involved.
Thanks again, everybody, for submitting, for reading, for accepting the weekly writing challenge. And for making yeah write the most welcoming spot on the Interwebs for writers who blog and bloggers who write.
Don't leave yet!

Please pop a comment below to congratulate our winners and give encouragement to all those who come out and support us all week after week. And c'mon back next week!
Yeah write #129 opens Tuesday…