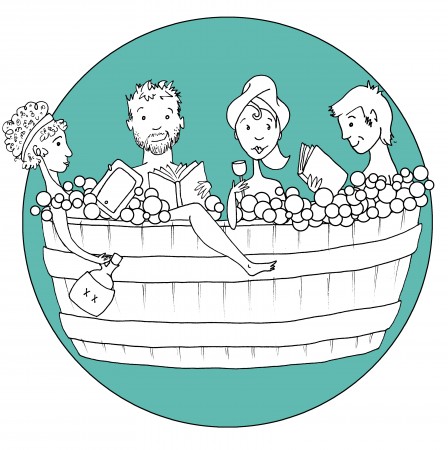 This was written as a companion piece to a much longer post written while Erica M was on perfectly legal prescription drugs and a teeny bit of vodka. It still applies.
Yeah write is:
when we are on our best behavior, a blog reader's paradise. There are no commercial or gimmicky sponsored posts snuck onto the grid. The casual surfer can stumble over us, click a thumbnail and start reading what we know will be a pretty decent personal narrative.
a surprisingly fun way to spend Monday through Thursday in good company while other, more dramatic, yet somehow less important, shiz is going down on the Internet.
experienced writers helping emerging writers helping beginning writers struggle with the decision of writing for a public audience. We do not abandon our beginning writers who speak up and don't quit.
an open community where writers and bloggers can submit when they want and not submit when they don't want. When you finally get bored with our shenanigans and unsubscribe, we heal our broken feelings with a new design element. True story. Typeface, graphic or WordPress template. Sometimes sushi.
Yeah write is not:
for everybody. And that's okay. We all have personalities and working styles best taken in small doses, and ours come with a really long list of contraindications. Take our executive editor, especially, with food, hard liquor and big chunks of dark, cynical humor.
your writing partner. If you don't have one, find one. Start looking here if you like, search a few writing groups, but beware the hidden agenda. Some people live to discourage the dreams of others. And some don't know enough about the process, about the art, to be considered your writing equal. You need a writing partner, not an intern.
a replacement for a writer's workshop or an instructor-led class. Sometimes, you just need to be in the same room with the person you're trusting with your hard work.
your first drafts folder. Bring your best stuff doesn't always mean bring it right now. It never means bring the best you happen to have on you, cohesive narrative be damned. Bring us your best stuff when you know it's gonna be the best on the grid.