yeah write weekly writing challenge #129 weekend moonshine grid is now open for whatever you want
It's the weekend, so the moonshine grid is open.
The first weekend in October feels markedly like fall; more so than September, which may-or-may not include Indian summer. October weekends are amazing in my opinion. Pumpkin patches cropping up, spooky lawn decorations appearing all over the neighborhood, the beginnings of Halloween party plans. Best of all? I'm allowed to indulge in my favorite form of entertainment…
Yes, I am a grown woman, and yes, this is my favorite TV special of all time. All hail The Great Pumpkin.
Oh yeah, moonshine? What's that? 
Besides the more literal meaning of moonshine (illicitly homemade hooch), moonshine here at yeah write means casual, weekend fun. You can link up a new post about whatever you want, in whichever format you choose, or you can recycle your favorite post from the past. The only rule — no commercial or commercially sponsored posts. We can deal with one rule, right? 
This is the badge you are looking for.
Over in the right sidebar is a list of yeah write badges containing the codes you need to satisfy the backlink requirement (also called a permalink) of the Inlinkz app. The badge for the moonshine looks like this: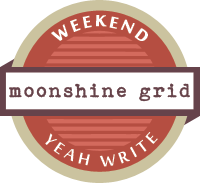 Under the badge is a few lines of code. Copy that exactly then paste it into the "text" or HTML view of your post editor. If you don't copy it exactly, you will get an error message from the Inlinkz app. If you get confused or your browser is uncooperative, visit the Inlinkz step-by-step instructions here. If all else fails, contact Inlinkz customer support.